We are on the decline. The checkered flag is in sight. Welcome back to the 5th installment of my poppy parade. If you landed here and want to get caught up. Go check out the first post. It starts on 6/25/16. this is my attempt to show different techniques using the same stamps. Often times what happens to me is I will make a card and get the juices flowing and have another idea and get another card done and then have another idea and so on. Next thing you know it's 1 am and you need to get up in 5 hours. This certainly isn't always the case. Sometimes, the first card is the best one I make and sometimes, I just stare blankly at my desk with no inspiration at all. In that case I usually do something else. Go for a walk or anything but create. It is no fun if you are not feeling it.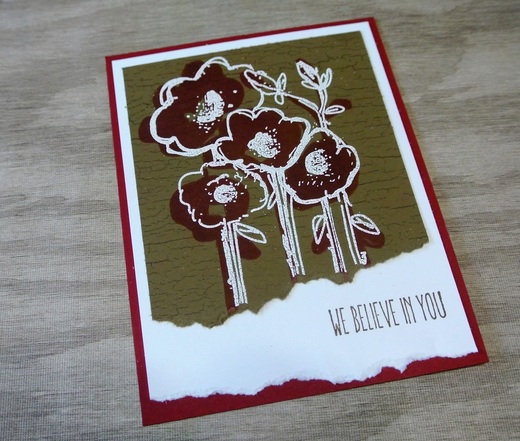 #5
poppy in Red
For this card I wanted to try something a bit different. I thought that the red ink might show up better on the soft suede color, but it didn't. I went over it with a Copic marker to achieve the shadow poppies to be a bit more red. All in all I am happy with how it turned out. Maybe next time I will use a lighter color and won't have the added step of the marker. also for some reason this color keeps coming off in the picture as green and it is not. If you are familiar with Stampin up's colors. This is soft suede. It may have a bit of green undertones but, it looks more brown in person. Also a good example of the 2 step stamping process.
Quick How To:
Stamped bold poppy stamp down first on Stampin up's soft suede card stock in cherry cobbler. ( also from SU ) As I previously stated. It did not come off this red. I went over it with R37 Copic marker. At last the color I wanted! Then grab the poppy outline stamp and some pigment white ink. Stamped poppies again in white. I used the craft white from Stampin up. White embossing powder and heat set it. Trimmed down to the size I wanted. Tore the bottom and grabbed for white card stock and did the same Trimmed to size I wanted and tire bottom. Stamped sentiment in soft suede and adhered to card base in cherry cobbler.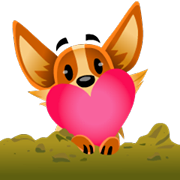 Thank You for stopping by
Stamp On!


Echo