Hello, Thank you for joining me
.
It has been very cold in my stamping ground of Montana! It was -27 today. If you factor in the wind chill it was -46. So, it was a good day to stay in and craft!
For my project today I used the snowman and one of the sentiments from
Holiday Hugs from My Favorite Things.
I also used stamps from
visible image.
The script background stamp is unknown. If you know who makes it, please let me know. My mom picked up it up at a thrift store for me and it is not marked at all. So, I have no idea who made it. It is a wonderful stamp for backgrounds.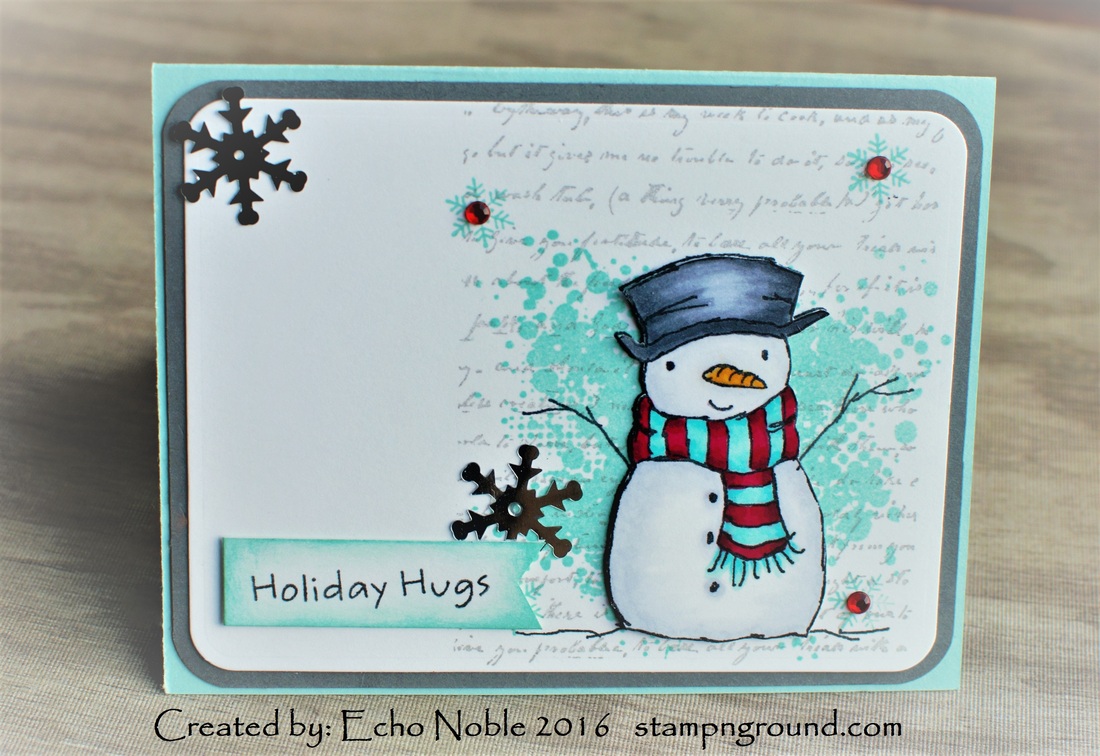 I was trying really hard to keep this clean and simple but it was a challenge for me. I love CAS cards but, have a hard time making them myself. I hope I achieved a bit of a CAs card here. Honestly, most of the time, I grunge and distress my cards to cover up mistakes. like big old thumb prints or I set my card in left open ink pad. I really am organized I swear...lol!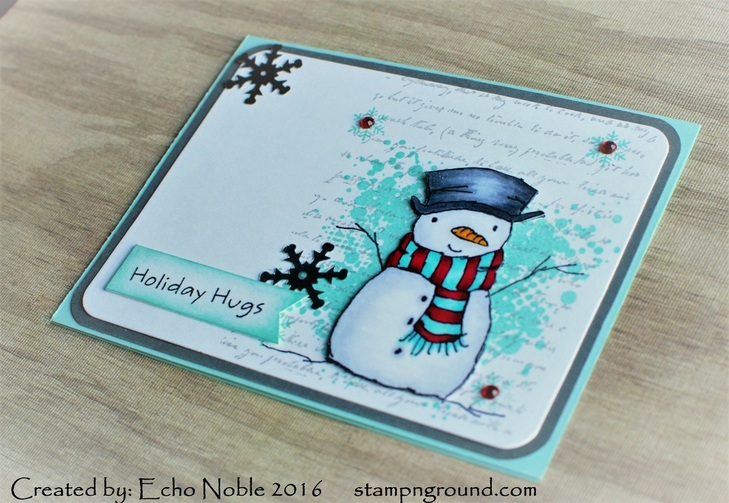 Anyways, for this card I stamped the edgy stamp from visible image in Pool Party ink from Stampin Up. Then I added the script background, stamped in Smoky Slate also from Stampin up. I stamped the snowmen where he was going to be on the card. I then stamped him again on white card stock to color and then cut out. I used my copic markers to color him. The Colors I used are:
C0, c1, c3, c5, c7, BG11, BG45, y17, yr15, R29, and R89. I added a few small snowflakes from Hero Arts. Then silver sequins and red jewels.
For the sentiment I used my favorite trick for a quick banner. I used my hexagon punch from stampin up. It works amazing for small quick banners! Just use the edge of the hexagon punch. Line it up so it's center. Then punch. How easy is that! Give it a try. It is an amazing little trick! You will banner everything for awhile. Okay, maybe that is just me! Then I sponged the banner in Pool Party. This is where I lost trying to keep it clean and simple. Fighting everything in me to not distress, grunge, or rip something. I love a torn edge on a card.

Here is the inside. I just stamped a few small snowflakes from Hero Arts and for the back I got this stamp from
Unity stamp Co
. and I absolutely love it!
Hope you all have a Merry Christmas and Happy New Year!
Supplies used:
Pool Party from stamin up. Card base and ink.
Smoky Slate from stampin up. Card matting and ink.
Memento black ink
Neenah solar white card stock #80
Copic markers
Hexagon punch
corner punch
silver sequins
red jewels
ATG tape and glue dots



Thank you for stopping by
Stamp On!

Echo